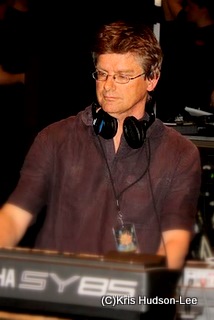 Tim's first rock concert, in sixth form, took the shape of a three piece without drums playing Deep Purple. Interesting. The girl Tim fancied was sufficiently impressed to permit a kiss but she then got off with the bass player. Tim has never quite trusted bass players since. [thanks, Tim! - Kris]
As Tim's musical interests expanded, so his A Levels suffered. The climax came when, on the way to his German resit in London, he noticed Rick Wakeman was playing that night at the Festival Hall and swerved round to buy a ticket. He failed the resit but can be heard applauding on the Journey to the Centre of the Earth LP.
At Leeds Uni in the mid seventies, Tim played in a pub glam-rock band, Lynx, based at the Faversham, then a sleepy hollow. Everything was looking good when punk happened and nineteen was ancient. However, the band supported the Damned at the Uni and much fun was had hiring out the PA to John Keenan at his fledgling F Club.
Determined to have Musician on his first passport, Tim turned to the club scene, then huge and full of clever musicians and even cleverer chords. With the Helen Day Band, Tim played eight gigs a week (count em), did live TV (audience 1 million, count em) and toured the UK and Europe. Tim and bass player mate Shaun formed their own band which duly folded and Tim found himself playing in the Vagabonds to Soul Britannia hero Jimmy James. Tim is really pleased however that his mate Shaun did manage to make a CD called Stars with Simply Red......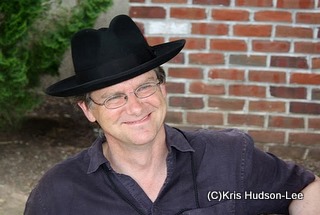 At this point, in Sheffield, Tim formed The Amoebas, his finest hour. They recorded in a warehouse next to a dreadful band called Human League and supported Gary Glitter at Sheffield Uni (sound of tumbleweed across the desert). Quickly dubbed the next big thing, The Amoebas managed to find and hold the fine line of obscurity between South Yorkshire heavy rock (many bands signed) and Sheffield synth-pop (even more bands signed). Tim is really really pleased, however, that his bass player mate Russ ended up writing songs for Tina Turner.....
Tim turned to teaching but was drawn into writing music for shows with a multicultural youth theatre in Bradford and played at the Edinburgh Fringe. He also got into home studio recording.
At this time, Tim fell in love with Jayne, classical singer playing a mean trombone. Jayne escaped to London and when this wasn't far enough, to Italy where she sang at La Scala and Turin Opera. Eventually, Tim dragged her back and they now have two musical kids, a tone-deaf piano-playing cat and their own brassy covers band The Beatleaders, available for birthdays, weddings and wakes (That's enough product endorsement - ED). Tim is really really really pleased, however, that The Beatleaders' bass player, Jen, has just left to go on a two-year world tour with Corinne Bailey Rae......
And so to Manning. A garage crammed full of sweaty blokes and a lovely lady for whom destiny beckons, although on past experience Tim will have to settle for being really really happy for someone else....


Tim's Links