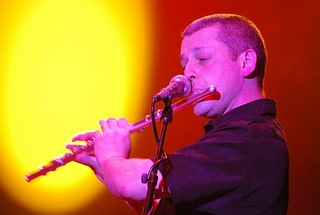 At the age of eleven whilst routing through his parent's wardrobe "looking for hidden Christmas presents", Steve discovered an old wooden flute that belonged to his father.
Although unplayed for years he managed to blow a few notes on it and took it to school the next day to show his music teacher. She took it out of his hands and replaced it with a shiny new metal flute!
Usual things then afterwards with school band and orchestras up until the age of 19, where he tended to find himself improvising during rehearsals.
Music interests at the time where bands like Black Sabbath, Iron Maiden, AC/DC etc.
Steve discovered Jethro Tull and was blown away by the cool looking trampy bloke who played the Flute. He later joined a Tull tribute band called Seismic Ring and toured the clubs and pubs and once in the USA .
Steve also toured with Mick Abraham's (Jethro Tull, Blodwyn Pig) recreating the music from the first Tull album "THIS WAS" (the only one that Mick played on).
For the last ten years, Steve has performed in Molly Bloom where he writes, sings, plays Flute and Tenor Sax.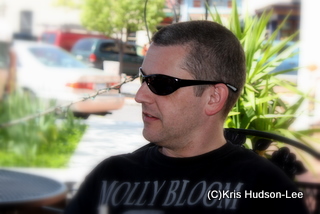 A four piece rock band that play their own self penned material played on Classical Guitar, Flute/Sax, Bass and Drums.
Guy Manning introduced himself to Steve on MySpace with an interest to him recording some flute for his latest album (at the time this was "Ansers Tree")

He did so and has since appeared on all later releases and joined the live band full time as well.
Steve enjoys the movement between the two bands and the differences between his roles within them.

Interests:
Long walks with a good pub at the end of it.
Things to do before I die:
Finish rebuilding my Triumph motorbike, it's been in bits for 13 yrs and it needs to live again.
(He has started it we've heard - Ed.)

FOOTNOTE: Steve did go on to finish building his Triumph!!