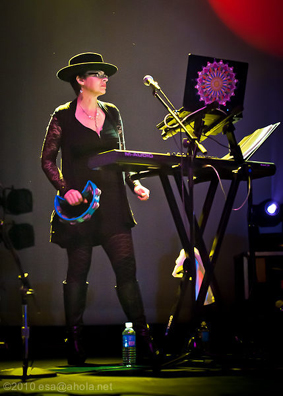 Julie King spent earlier years singing in and around folk clubs in London.

Moving to Leeds in the early 80's, Julie hung around with local musicians until someone noticed her and invited her to join 'Through the Looking Glass' (an eclectic bunch of misfit visionaries who created visual extravaganza's in the mould of Alice Cooper schlock horror and music which throbbed with the spirit of the 80's). Doomed to destruction by it's very individuality, some of the music, written by Guy Manning, ended up on the early Manning albums.

Guy and Julie later worked on more commercial project but these were abandoned when Guy moved off into the musical wonderland that is prog and left Julie happily retired.

Guy then rudely interrupted Julie's quiet musings and invited her to join the revamped Manning band.

Over her time in MANNING, Julie's work has included backing vocals on "Songs from the Bilston House", a duet with Guy on "Valentine's Night" from "Number Ten" and she was also featured on "4 Egos One War" from The Tangent's "Not as Good as the Book" album.

In 2011, she took the lead role of 'Harrett Hordern' on "A Night at the Savoy, 1933" on the MANNING album "Margaret's Children"

In the Manning Elektrik band, Julie performed additional keyboards, percussion and vocals.