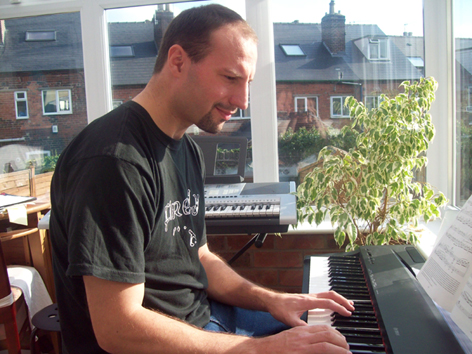 Check Martin's Work out: (More below)
www.thisdotmusic.com

Martin has loved playing keyboards, pianos and church organs all his life. He was born in Bristol in the summer of 69, and then spent his childhood in Sheffield. He went to college in Nottingham, and then to the University of Durham working for his degree in music. He returned to Sheffield to study for a Masters in composition and performance.
His first experience in a band was visiting the music shops along London Road in Sheffield, only managing a broken drum machine between the members of Blue Vision. Nice name for a band – shame there was no music! The next experience was Apul Amba which was good fun during sixth form days. In Durham he played viola/violin with the folk band Stiff Picks and Sticky Fingers on several occasions.

His most recent band experience has been as a member of the House Band for InYerFace Theatre Company based in Hillsborough.
Martin has contributed to the second Kate Rusby songbook by transcribing 40+ songs by ear and transferring them to sheet music. He has written a grade 8 keyboard piece for the exam syllabus of Trinity Guildhall from 2012.

Martin has enjoyed links with the Sheffield Philharmonic Orchestra: He composed a piece for their 50th anniversary entitled Rhapsody. He has been a pianist (and viola player) with the orchestra particularly enjoying "The Eye of the Wind" by Gordon Giltrap. Martin made further contributions to the work of Giltrap by adding a harp part to "The Brotherhood Suite" and arranging "Tears of Joy" for string quartet.
Martin is part of a music loving family. In 2001, he married Jackie (the same year he finished his doctorate in composition) and they have two children. His son gets the better of him with perfect pitch: "That car horn is an A? No Dad! It's a B flat". His younger sister complains when music is dull and is much happier if Planet Rock is tuned in!

Martin is really looking forward to learning MANNING music!
"Thank goodness somebody came along who might make use of that electric violin I bought on a whim!" GuyM
www.soundcloud.com/martin-thiselton
www.compositiontoday.com/thiselton

https://www.facebook.com/pages/thisdotmusic/156130014550763