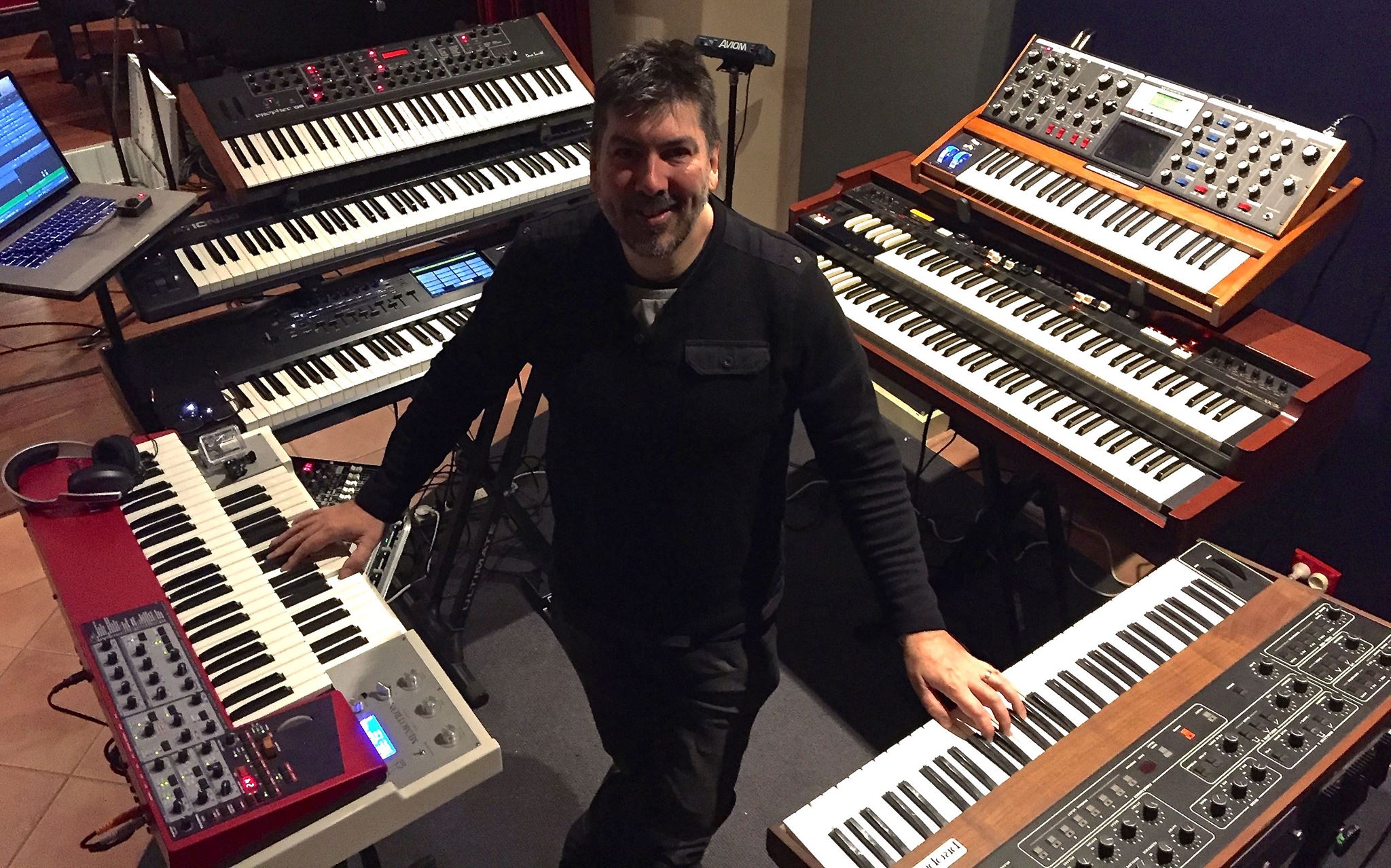 Sean Timms is a stalwart of the Adelaide music scene. He has been established as a session musician ever since he was a member of bands such as Hearts Of Fire in the 1980s. He was a lead song-writer and keyboard player with successful Progressive Rock band Unitopia and now performs with such groups as Southern Empire and Lather.
He is an engineer, composer, arranger and producer with credits in the film and advertising industry.
Timms started on piano at 10 and developed an interest in keyboards and synthesizers after his father bought him a copy of Rick Wakeman's Journey to the Centre of the Earth LP when he was 14. At 16 he bought his first synthesizer. He joined a band with some of his school mates and proceeded to make an income from doing cabaret work.
By his early 20's, Sean was in demand as a first call session player. During this time he gigged up to 6 nights a week and studied jazz at Adelaide College where he met Monty Ruggiero. A chance meeting with a local producer introduced Sean to a recording studio. Starting as a first call session player, he quickly became an in-house arranger, composer & programmer.
In 1989, Timms was asked to perform with Ross Wilson to promote his Dark Side of the Man album. This subsequently led to a stint in Mondo Rock, performing their latest release "Why Fight It" and their back catalogue. He also performed at a live televised event, Oz Music 90 at the Sydney Entertainment Centre performing to 19,000 people on the same bill as Crowded House & Kate Ceberano.
Partnering with another post production studio in 1995, he spent 4 years developing his skills composing for the advertising industry. During this time he met Mark Trueack which led to the formation of Unitopia.
Not getting enough satisfaction from a joint venture, Sean decided to open his own facility, naming it Timms Tunes. During this time Sean scored the music to two feature films.

In 1999, Timms Tunes relocated to a character laden former church building.
Timms continues to compose for many national and international clients such as Bakers Delight, Mitsubishi, Mazda, BMW, Home Hardware and Wendy's. He also works as a composer for Disney and has scored music for film projects including The Book Keeper and Gargoyle, two highly awarded animated films produced by Anifex.

Now he has joined Damanek alongside Guy, Dan & Marek
"Having a keyboard player of Sean's calibre helping me out in the band is a fantastic experience. I can write the lyrics, tunes and basic arrangements and I know I can leave it in very safe hands when do I pass it across!

He is very quick to learn, calm in a crisis and incredibly supportive...all the things I need when I get myself wound
up" (Guy)