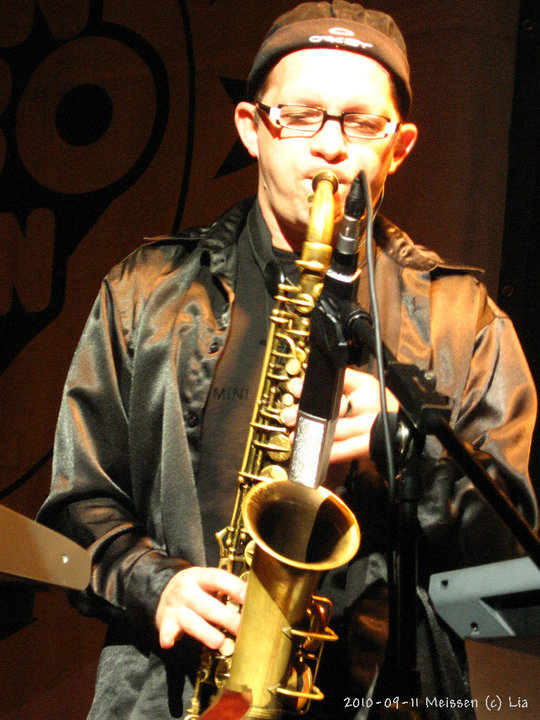 Living in Germany, West Saxony, Marek has made music since 1996 in different bands of his own plus other bands, playing saxophone and keyboards.

He studied jazz/pop/rock Saxophone in Leipzig, Germany as well as Clarinet. He composes, arranges and produces in his own studio "B`side-music".

For Marek, the most important bands and projects have been his own ones, of course: "Toxic Smile" (since 1996), "Seven Steps To The Green Door" (since 2004) and "Cyril" ( since 2010).
Marek also played keys and sax for East German artrock legend "Stern Combo Meissen" ( 2010-2012 ) and new ProgMetal-project "Flaming Row" (since 2009).

He has contributed Saxes and Clarinets to 3 Manning albums and was also recruited to play along side Guy in the debut of UPF.
(United Progressive Fraternity)

In 2016, to reciprocate, Guy provided many of the lyrics for the latest CYRIL album "Paralyzed" as well as lyrics for a 'Seven Steps...' number included on the 'Fetish' album.


Here are some links to Mareks music:

www.bside-music.de
www.toxic-smile.de
www.ssttgd.de
www.cyril-band.de
www.flamingrow.de

"Since being introduced to Marek through Shawn Gordon (PRRecords) as a potential Wind Session player, our paths have crossed many times!

On the latter day Manning albums, where his inventive and impeccable Sax and Clarinet parts have lit up the songs, to working together in the debut of the United Progressive Fraternity.

In 2016, I had the pleasure of contributing lyrics to the "Paralyzed" album by Cyril (...one of Mareks many projects) plus some others for a piece on the "Fetish" album by Seven Steps to the Green Door (...another of his many projects!). This was of the only times I had ever consented to write lyrics for someone else

Marek is a perfectionist and has had to 'down' his game a bit when helping me out!
But, throughout our working relationship whenever we have got to a 'detailed' discussion about an arrangment, 9/10 times, Marek is right...which is infuriating :) Still, I do not think would have it any other way!" (Guy)