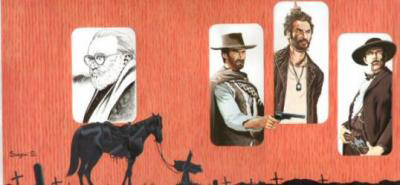 Lyrics

i) (Curtain Rises) A Canyon at Dawn
ii) A Lonely Man
I have many names,
Travel rough terrain
Never welcomed where I shelter
For a tiny sum,
Iíll make sure the job gets done
I never falter once Iíve started
Thereís a folly in the ways in which I am known
Iíll never see a family of my own, full grown
Found a place in the scheme and made it fit for me
Solving others problems and then calling in the fee
But thereís no World out there that is waiting for me
The gunman in the shadows makes a life of misery
So you take care that you respect this lonely man
Iíll take what little pleasure from you anyway I can
But thereís a World in here that no one else can see
I buried it so deeply down that it can never get free,
But I take care that I respect the other gun
My life is short and will be over well before itsí begun
iii) Would you mind having this war somewhere else please?
iv) Call Me Evil
No saviour will be waiting, no grand horizon, lover or plough,
Iíve fallen from grace, enabled, black heart, relentless and proud,
A killer of all dreams am I.
Iím the hand of avenging angels, I bring down the guilty as allowed
I see my place of majestic orders, the halls of greatness and the writing on the wallI have no need of absolution, revolution, conversation endsÖmy friend
So call me evil, call me death, call me cursed or just you hold your breath
Save your breathÖfor I am free, yes Iím free
v) Smoke hangs over a battlefield.
vi) Almeria
vii) Figures In A Landscape
Figures in a Landscape playing the eye of the storm
While deadly wars surround me, as the land is terra-formed
As my country is unfolding, I will take the plunder, chase the prize,
And the weapons that I'm holding will be my army, but disguised
I am the microcosm, still play the game on either side,
As the future is unravelled to the shape that I decide.
As we build ourselves an empire, creatures scrabble to lick the bowl
As the world writes down its great events, it misses out my tiny role
I am the lost third party - a gunman on a grassy knoll,
I bring down cities, meet John Lennon,
I'm an Ace, (in one dark hole)
And I'll be here when you're all gone,
I'll hide in mountains, 'burbs and seas,
I'll be waiting for my time,
For all your contempt, you NEED me
viii) In The Circle
Caught within the circle and the sand vipers trail,
Only tombstone witnesses will gather those that fail
A last look, one cold breathÖa taster of death!

Moving to the rhythm of a silent beating drum,
Coming from within me, the moment has come
A last thought, one lesson taughtÖwill I die today?
And all is beautiful beneath the rising sun,
Finding clarity a battle has been won
And from my soul an aching cry of freedom fills my ears
Calling me to somewhere else through sweetly blinding tears of joy
And all is quiet at the edges of the night
A rush of heady music and a growing blinding light
And from the noise, a voice is heard that leads me far away
No more lifeís confusion as my memories decay. Iím free
ix) It's been a very busy day
x) (Curtain Closes) A Canyon at Dusk

Credits
Written and Performed by La Voce Del Vento (Una Segmenta della Tangentio)
Andreas Tillisoni - Moog Synthesisers, Organ, Piano, Voices, Drums & Bass Guitar
Guy De M'Anningi - Voices, Electric / Acoustic Guitars, Orchestrations & Keyboards

All Lyrics by M'Anningi except "Figures In A Landscape" (Tillisoni)

More details can be found here:
< http://www.colossus.fi/125/index.php?id=18,18,0,0,1,0 >
---
michael kors outlet
sport blue 6s
louis vuitton outlet
kate spade outlet
louis vuitton outlet
foamposites shooting stars
sport blue 3s
kate spade outlet
michael kors outlet
Louis Vuitton Outlet
michael kors outlet
sport blue 3s
legend blue 11s
sport blue 6s
louis vuitton outlet
legend blue 11s
michael kors outlet
Louis Vuitton Outlet
louis vuitton outlet
coach outlet online
legend blue 11s
legend blue 11s
beats by dre cheap
kate spade outlet
legend blue 11s
beats by dre outlet
jordan 6 black infrared
beats by dre outlet
black infrared 6s
michael kors outlet
Lebron 11
michael kors outlet
beats by dre outlet
history of jordan 6s
legend blue 11s
jordan 6 history of jordan
legend blue 11s
beats by dre cheap
legend blue 11s
legend blue 11s
Lebron 11
legend blue 11s
history of jordan 6s
cheap jordans
lebron 11
lebron 12
black infrared 6s
jordan 6 history of jordan
history of jordan 6s
jordan 6 black infrared
jordan retro 11
jordan retro 11 legend blue
jordan 11 legend blue
jordan 11 legend blue
jordan 11
air jordan 11
jordan retro 11 legend blue
legend blue 11s
air jordans
jordan 11 Columbia
legend blue 11s
jordan retro 11 legend blue
jordan 11
retro jordans
jordan retro 11 legend blue
jordan 11
jordan retro 11 legend blue
legend blue 11s
jordan 11 legend blue
jordan 11 legend blue
legend blue 11s
jordan 11 legend blue
jordan 11 legend blue
jordan 11 legend blue
jordan 11
jordan 11 legend blue
jordan 11 legend blue
legend blue 11s
legend blue 11s
legend blue 11s
legend blue 11s
jordan 11
jordan 11 legend blue
jordan retro 11 legend blue
legend blue 11s
jordan 11 legend blue
legend blue 11s
jordan retro 11
jordan 11 legend blue
legend blue 11s
legend blue 11s
jordan 11 legend blue
jordan 11 legend blue
legend blue 11s
jordan 11
jordan 11 legend blue
legend blue 11s
jordan 11 legend blue
legend blue 11s
legend blue 11s
legend blue 11s
jordan 11 legend blue
jordan 11
jordan 11 legend blue
jordan 11 legend blue
jordan 11
jordan 11
jordan 11 legend blue
legend blue 11s
legend blue 11s
jordan 11 legend blue
jordan 11 legend blue
jordan 11
jordan retro 11
legend blue 11s
jordan 11 legend blue
jordan 11 legend blue
legend blue 11s
jordan 11 legend blue
legend blue 11s
legend blue 11s
jordan 11 legend blue
jordan 11 legend blue
legend blue 11s
jordan 11 legend blue
jordan 11
legend blue 11s
jordan retro 11
jordan retro 11
air jordan 11
jordan 11 legend blue
legend blue 11s
jordan 11 legend blue
legend blue 11s
jordan retro 11
jordan retro 11
jordan 11 legend blue
legend blue 11s
jordan retro 11
legend blue 11s
jordan retro 11
jordan 11 legend blue
jordan 11
jordan retro 11
legend blue 11s
jordan retro 11
legend blue 11s
legend blue 11s
legend blue 11s
jordan 11 legend blue
legend blue 11s
legend blue 11s
jordan 11 legend blue
jordan 11
legend blue 11s
jordan 11
jordan 11
jordan retro 11
legend blue 11s
legend blue 11s
jordan 11 legend blue
jordan retro 11
jordan retro 11
jordan 11
legend blue 11s
jordan retro 11
legend blue 11s
legend blue 11s
jordan 11
jordan 11