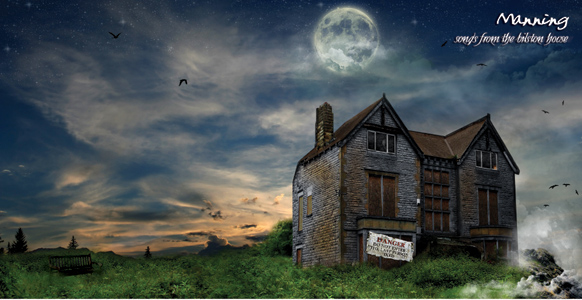 track listing
1. Songs From The Bilston House
2. The Calm Absurd
3. Lost In Play
4. Understudy
5. Skimming Stones
6. Antares
7. Icarus & Me
8. Pillars Of Salt
9. Inner Moment

Credits:

All tracks composed & assembled by Guy Manning
Produced By Andy Tillison & Guy Manning
Artwork by Rosie Manning (Lilac Productions)

Line-Up:

Guy Manning - Acoustic 6, 12 & Classical Guitars, Electric Guitar,
Mandolin, Bouzouki, Keyboards, Samples, Basses, Percussion & Vocals

Laura Fowles - Saxes & Vocals
Ian 'Walter' Fairbairn - Fiddles
David Million - Electric Guitars
Julie King - Vocals

Guests:

Stephen Dundon - Flutes [Courtesy of 'Molly Bloom']
Andy Tillison - Keyboards, Drum & Vocals [Courtesy of 'The Tangent' & 'PO90' ]
FOREWORD

IN 2006, I WAS INVITED TO PLAY AT THE INAUGURAL TWO DAY
"SUMMER'S END" MUSIC FESTIVAL.
THE EVENT WAS BEING HELD
AT BILSTON, A TOWN IN THE WEST MIDLANDS OF THE UK.
I WANTED TO ATTEND BOTH DAYS AND SO I BOOKED INTO A
HOTEL AT THE OUTSKIRTS OF BILSTON.

THE HOTEL WAS REMARKABLE FOR TWO REASONS:
1. IT WAS INHABITED BY A MACAW CALLED BARNEY, WHO, I WAS
FAITHFULLY INFORMED, DID NOT BITE!
2. AT THE END OF THE ROAD, THERE WAS A LARGE DERELICT
PROPERTY, BOARDED UP AND DILAPIDATED
ON THE OUTSIDE, NAILED TO THE BOARDS, WAS A SIGN
WHICH PROUDLY READ IN LARGE WARNING LETTERS
"DO NOT ENTER HERE! THE LAST PERSON DIED!"
AS I STOPPED TO TAKE A PHOTO, SEVERAL MORBID THOUGHTS RAN
THROUGH MY MIND...WHO DIED? HOW? WHEN? WHERE EXACTLY?
I WONDER WHAT ELSE WENT ON IN THERE OVER THE YEARS?
THE IDEAS PERCOLATED AND AS I STARTED TO ASSEMBLE PIECES
FOR THE NEW ALBUM, LATER IN THE YEAR, THIS THEME POPPED
BACK TO THE SURFACE AGAIN.
SO, HERE WE ARE THEN, WITH STORIES, OBSERVATIONS AND ~
ATMOSPHERES WHICH HAVE BEEN SET WITHIN THE WALLS OF ONE
BUILDING OVER TIME.
IT SHOULD BE STATED THAT THROUGH NO PRE-DETERMINED METHOD,
MANY OF THE TALES HAVE TURNED OUT TO BE QUITE AUTOBIOGRAPHICAL
IN NATURE, ALTHOUGH, MOST LIKELY, THESE HAVE BEEN DELIVERED
TO YOU IN THE THIRD PERSON (SEE "THE CALM ABSURD")
AT THIS TIME, I MUST ALSO TENDER MY APOLOGIES TO THE
INHABITANTS OF BILSTON ITSELF. IN ORDER TO ACCOMMODATE
"ANTARES", I HAVE HAD TO UPLIFT THE HOUSE AND THE TOWN
TO THE UK COAST FOR A WHILE.
I PROMISE I WILL RETURN IT ONE DAY!
---
lebron 12
thunder 14s
Wolf Grey 3s
wolf grey 3s
kate spade outlet
louis vuitton outlet
jordan 6 sport blue
coach factory outlet
louis vuitton outlet
michael kors outlet
wolf grey 3s
kate spade outlet
louis vuitton outlet
michael kors outlet
Lebron 12
jordan 3 sport blue
foamposites for sale
sport blue 6s
thunder 14s
louis vuitton outlet
legend blue 11s
history of jordan 6s
beats by dre cheap
jordan 6 history of jordan
black infrared 6s
legend blue 11s
cheap jordans
jordan 11 legend blue
black infrared 6s
legend blue 11s
jordan 11 legend blue
history of jordan 6s
kate spade outlet
louis vuitton outlet
jordan 6 black infrared
legend blue 11s
beats by dre outlet
history of jordan 6s
black infrared 6s
legend blue 11s
cheap jordans
legend blue 11s
louis vuitton outlet
michael kors outlet
jordan 11 legend blue
cheap jordan shoes
legend blue 11s
jordan 6 black infrared
legend blue 11s
black infrared 6s
legend blue 11s
jordan 11 Columbia
jordan 11 legend blue
legend blue 11s
jordan 11 legend blue
jordan 11
legend blue 11s
jordan retro 11
air jordans
jordan 11 legend blue
jordan 11 legend blue
jordan 11 legend blue
jordan retro 11
retro 11
jordan 11 legend blue
jordan retro 11 legend blue
jordan 11
jordan 11 Columbia
jordan retro 11 legend blue
legend blue 11s
jordan 11
jordan retro 11 legend blue
jordan 11 legend blue
legend blue 11s
jordan 11 legend blue
jordan retro 11 legend blue
jordan retro 11
jordan retro 11
jordan retro 11
jordan retro 11 legend blue
legend blue 11s
legend blue 11s
legend blue 11s
jordan 11 legend blue
legend blue 11s
legend blue 11s
legend blue 11s
jordan retro 11
jordan 11
legend blue 11s
legend blue 11s
jordan 11 legend blue
legend blue 11s
legend blue 11s
jordan 11 legend blue
air jordans
jordan 11 legend blue
legend blue 11s
legend blue 11s
legend blue 11s
jordan 11 legend blue
jordan 11
jordan 11 legend blue
legend blue 11s
legend blue 11s
legend blue 11s
legend blue 11s
legend blue 11s
air jordan 11
jordan 11 legend blue
legend blue 11s
jordan 11
jordan 11 legend blue
legend blue 11s
legend blue 11s
legend blue 11s
legend blue 11s
jordan 11
jordan 11 legend blue
air jordan 11
jordan 11 legend blue
legend blue 11s
jordan retro 11
legend blue 11s
legend blue 11s
legend blue 11s
legend blue 11s
legend blue 11s
air jordans
air jordans
legend blue 11s
jordan 11
jordan 11 legend blue
legend blue 11s
legend blue 11s
jordan retro 11
legend blue 11s
legend blue 11s
jordan retro 11
jordan 11
jordan retro 11
legend blue 11s
jordan 11 legend blue
jordan retro 11
jordan 11 legend blue
jordan 11
jordan retro 11
jordan 11
legend blue 11s
jordan retro 11
jordan 11
jordan 11
legend blue 11s
legend blue 11s
legend blue 11s
jordan 11 legend blue
legend blue 11s
jordan 11 legend blue
legend blue 11s
legend blue 11s
legend blue 11s
legend blue 11s
legend blue 11s
jordan retro 11
jordan 11
legend blue 11s
jordan 11 legend blue
jordan 11
jordan 11 legend blue
legend blue 11s